Nouveautés presses étrangères du 1er trimestre 2014 : galerie et sélection
19
avr.
2014
Cette semaine, nous vous proposons un retour sur les dernières nouveautés publiées par nos prestigieux partenaires anglo-saxons (Cambridge UP, Harvard UP, Chicago Press, Yale UP, John Hopkins UP, etc.), soit 52 titres reçus entre le 1er janvier et le 31 mars 2014. Un premier trimestre abondant en livres forts, comme l'illustre notre sélection ci-dessous. 
Nous vous rappelons que tous ces volumes sont disponibles dans notre boutique. Vous avez également la possibilité de les commander sur le compte Abebooks de la librairie.
Voir la galerie des 52 titres des presses étrangères reçus au 1er trimestre 2014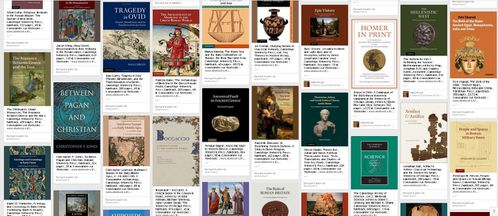 Notre sélection 
Monde gréco-romain : histoire, culture, société :
Zeev Weiss, Public Spectacles in Roman and Late Antique Palestine, Harvard University Press, hardback, 384 pages, 40 €.
Présentation de l'éditeur : « Public Spectacles in Roman and Late Antique Palestine introduces readers to the panoply of public entertainment that flourished in Palestine from the first century BCE to the sixth century CE. Drawing on a trove of original archaeological and textual evidence, Zeev Weiss reconstructs an ancient world where Romans, Jews, and Christians intermixed amid a heady brew of shouts, roars, and applause to watch a variety of typically pagan spectacles. Ancient Roman society reveled in many such spectacles—dramatic performances, chariot races, athletic competitions, and gladiatorial combats—that required elaborate public venues, often maintained at great expense. Wishing to ingratiate himself with Rome, Herod the Great built theaters, amphitheaters, and hippodromes to bring these forms of entertainment to Palestine. Weiss explores how the indigenous Jewish and Christian populations responded, as both spectators and performers, to these cultural imports. Perhaps predictably, the reactions of rabbinic and clerical elites did not differ greatly. But their dire warnings to shun pagan entertainment did little to dampen the popularity of these events. Herod's ambitious building projects left a lasting imprint on the region. His dream of transforming Palestine into a Roman enclave succeeded far beyond his rule, with games and spectacles continuing into the fifth century CE. By then, however, public entertainment in Palestine had become a cultural institution in decline, ultimately disappearing during Justinian's reign in the sixth century. »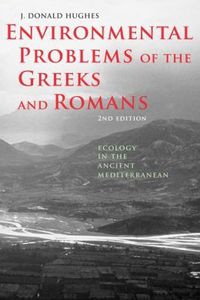 J. Donald Hugues, Environmental Problems of the Greeks and Romans. Ecology in the Ancient Mediterranean, John Hopkins University Press, 2nd edition, paperback, 306 pages, 20 €. 
Présentation de l'éditeur : « In this dramatically revised and expanded second edition of the work entitled Pan's Travail, J. Donald Hughes examines the environmental history of the classical period and argues that the decline of ancient civilizations resulted in part from their exploitation of the natural world. Focusing on Greece and Rome, as well as areas subject to their influences, Hughes offers a detailed look at the impact of humans and their technologies on the ecology of the Mediterranean basin. Evidence of deforestation in ancient Greece, the remains of Roman aqueducts and mines, and paintings on centuries-old pottery that depict agricultural activities document ancient actions that resulted in detrimental consequences to the environment. Hughes compares the ancient world's environmental problems to other persistent social problems and discusses attitudes toward nature expressed in Greek and Latin literature. In addition to extensive revisions based on the latest research, this new edition includes photographs from Hughes's worldwide excursions, a new chapter on warfare and the environment, and an updated bibliography. »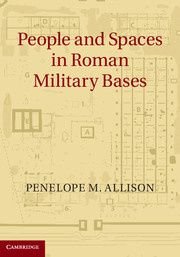 Penelope M. Allison, People and Spaces in Roman Military Bases, Cambridge University Press, hardback, 507 pages, 85 €. 
Présentation de l'éditeur : « This study uses artefact distribution analyses to investigate the activities that took place inside early Roman imperial military bases. Focusing especially on non-combat activities, it explores the lives of families and other support personnel who are widely assumed to have inhabited civilian settlements outside the fortification walls. Spatial analyses, in GIS-type environments, are used to develop fresh perspectives on the range of people who lived within the walls of these military establishments, the various industrial, commercial, domestic and leisure activities in which they and combat personnel were involved, and the socio-spatial organisation of these activities and these establishments. The book includes examples of both legionary fortresses and auxiliary forts from the German provinces to demonstrate that more material-cultural approaches to the artefact assemblages from these sites give greater insights into how these military communities operated and demonstrate the problems of ascribing functions to buildings without investigating the full material record. » 
Littérature antique :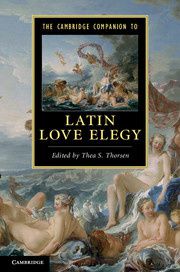 The Cambridge Companion to Latin Love Elegy, edited by Thea S. Thorsen, Cambridge University Press, coll. Cambridge Companion to Litterature , paperback, 452 pages, 28, 70 €.
Présentation de l'éditeur : « Latin love elegy is one of the most important poetic genres in the Augustan era, also known as the golden age of Roman literature. This volume brings together leading scholars from Australia, Europe and North America to present and explore the Greek and Roman backdrop for Latin love elegy, the individual Latin love elegists (both the canonical and the non-canonical), their poems and influence on writers in later times. The book is designed as an accessible introduction for the general reader interested in Latin love elegy and the history of love and lament in Western literature, as well as a collection of critically stimulating essays for students and scholars of Latin poetry and of the classical tradition. »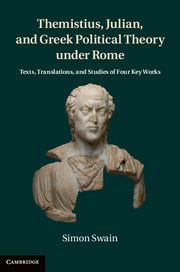 Simon Swain, Themistius, Julian and Greek Political Theory under Rome. Texts, Translations and Studies of Four Key Words, Cambridge University Press, hardback, 229 pages, 65 €. 
Présentation de l'éditeur : « Themistius' close relationship with Christian emperors from Constantius to Theodosius makes him one of the most important political thinkers and politicians of the later fourth century, and his dealings with Julian the Apostate have recently attracted much speculation. This volume presents a new critical edition, translation and analysis of Themistius' letter to Julian about kingship and government, which survives mainly in Arabic, together with texts, translations and analyses of Julian's Letter to Themistius and Sopater's Letter to Himerius. The volume is completed with a text, translation and analysis of the other genuine work of Greek political theory to survive in Arabic, the Letter of Aristotle to Alexander, which dates from an earlier period and throws into relief the particular concerns of Themistius, Julian, and the rulers of the fourth-century Roman world. »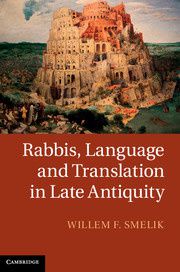 Willem F. Smelik, Rabbis, Language and Translation in Late Antiquity, Cambridge University Press, hardback, 591 pages, 78,70 €. 
Présentation de l'éditeur : « Exposed to multiple languages as a result of annexation, migration, pilgrimage and its position on key trade routes, the Roman Palestine of Late Antiquity was a border area where Aramaic, Greek, Hebrew and Arabic dialects were all in common use. This study analyses the way scriptural translation was perceived and practised by the rabbinic movement in this multilingual world. Drawing on a wide range of classical rabbinic sources, including unused manuscript materials, Willem F. Smelik traces developments in rabbinic thought and argues that foreign languages were deemed highly valuable for the lexical and semantic light they shed on the meanings of lexemes in the holy tongue. Key themes, such as the reception of translations of the Hebrew Scriptures, multilingualism in society, and rabbinic rules for translation, are discussed at length. » 
Religion :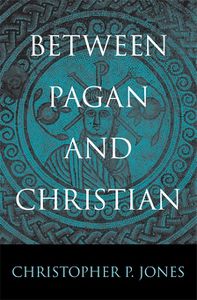 Christopher P. Jones, Between Pagan and Christian, Harvard University Press, hardback, 224 pages, 35 €.
Présentation de l'éditeur : « For the early Christians, "pagan" referred to a multitude of unbelievers: Greek and Roman devotees of the Olympian gods, and "barbarians" such as Arabs and Germans with their own array of deities. But while these groups were clearly outsiders or idolaters, who and what was pagan depended on the outlook of the observer, as Christopher Jones shows in this fresh and penetrating analysis. Treating paganism as a historical construct rather than a fixed entity, Between Pagan and Christian uncovers the ideas, rituals, and beliefs that Christians and pagans shared in Late Antiquity. While the emperor Constantine's conversion in 312 was a momentous event in the history of Christianity, the new religion had been gradually forming in the Roman Empire for centuries, as it moved away from its Jewish origins and adapted to the dominant pagan culture. Early Christians drew on pagan practices and claimed important pagans as their harbingers—asserting that Plato, Virgil, and others had glimpsed Christian truths. At the same time, Greeks and Romans had encountered in Judaism observances and beliefs shared by Christians such as the Sabbath and the idea of a single, creator God. Polytheism was the most obvious feature separating paganism and Christianity, but pagans could be monotheists, and Christians could be accused of polytheism and branded as pagans. In the diverse religious communities of the Roman Empire, as Jones makes clear, concepts of divinity, conversion, sacrifice, and prayer were much more fluid than traditional accounts of early Christianity have led us to believe. »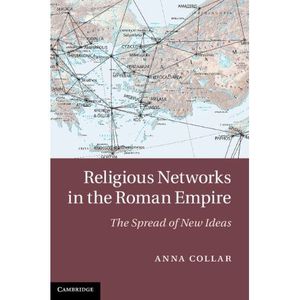 Anna Collar, Religious Networks in the Roman Empire. The Spread of New Ideas, Cambridge University Press, hardback, 312 pages, 65 €. 
Présentation de l'éditeur : « The first three centuries AD saw the spread of new religious ideas through the Roman Empire, crossing a vast and diverse geographical, social and cultural space. In this innovative study, Anna Collar explores both how this happened and why. Drawing on research in the sociology and anthropology of religion, physics and computer science, Collar explores the relationship between social networks and religious transmission to explore why some religious movements succeed, while others, seemingly equally successful at a certain time, ultimately fail. Using extensive epigraphic data, Collar provides new interpretations of the diffusion of ideas across the social networks of the Jewish Diaspora and the cults of Jupiter Dolichenus and Theos Hypsistos, and in turn offers important reappraisals of the spread of religious innovations in the Roman Empire. » 
Philosophie :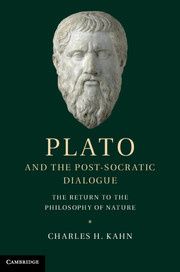 Charles H. Kahn, Plato and the Post-Socratic Dialogue.The Return to the Philosophy of Nature, Cambridge University Press, hardback, 262 pages, 60 €. 
Présentation de l'éditeur : « Plato's late dialogues have often been neglected because they lack the literary charm of his earlier masterpieces. Charles Kahn proposes a unified view of these diverse and difficult works, from the Parmenides and Theaetetus to the Sophist and Timaeus, showing how they gradually develop the framework for Plato's late metaphysics and cosmology. The Parmenides, with its attack on the theory of Forms and its baffling series of antinomies, has generally been treated apart from the rest of Plato's late work. Kahn shows that this perplexing dialogue is the curtain-raiser on Plato's last metaphysical enterprise: the step-by-step construction of a wider theory of Being that provides the background for the creation story of the Timaeus. This rich study, the natural successor to Kahn's earlier Plato and the Socratic Dialogue, will interest a wide range of readers in ancient philosophy and science. »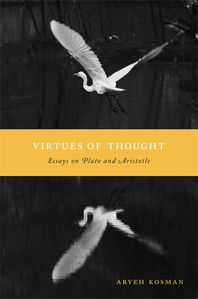 Aryeh Kosman, Virtues of Thought. Essays on Plato and Aristotle, Harvard University Press, hardback, 336 pages, 40 €.
Présentation de l'éditeur : « Virtues of Thought is an excursion through interconnecting philosophical topics in Plato and Aristotle, under the expert guidance of Aryeh Kosman. Exploring what these two foundational figures have to say about the nature of human awareness and understanding, Kosman concludes that ultimately the virtues of thought are to be found in the joys and satisfactions that come from thinking philosophically, whether we engage in it ourselves or witness others' participation. Kosman examines Aristotle's complex understanding of the role that reason plays in practical choice and moral deliberation, and the specific forms of thinking that are involved in explaining the world and making it intelligible to ourselves and others. Critical issues of consciousness and the connection between thinking and acting in Aristotle's philosophical psychology lead to a discussion of the importance of emotion in his theory of virtue. Theories of perception and cognition are highlighted in works such as Aristotle's Posterior Analytics. When his focus turns to Plato, Kosman gives original accounts of several dialogues concerning Plato's treatment of love, self-knowledge, justice, and the complex virtue known as sophrosyne in such texts as Charmides and the Republic. Bringing together in a single volume previously unpublished essays along with classics in the field, Virtues of Thought makes a significant contribution to our study of ancient Greek philosophy. » 
Moyen Âge :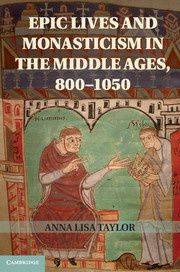 Anna Lisa Taylor, Epic Lives and Monasticism in the Middle Ages, 800-1050, Cambridge University Press, hardback, 342 pages, 70 €.
Présentation de l'éditeur :  « This is the first book to focus on Latin epic verse saints' lives in their medieval historical contexts. Anna Taylor examines how these works promoted bonds of friendship and expressed rivalries among writers, monasteries, saints, earthly patrons, teachers and students in Western Europe in the central Middle Ages. Using philological, codicological and microhistorical approaches, Professor Taylor reveals new insights that will reshape our understanding of monasticism, patronage and education. These texts give historians an unprecedented glimpse inside the early medieval classroom, provide a nuanced view of the complicated synthesis of the Christian and Classical heritages, and show the cultural importance and varied functions of poetic composition in the ninth, tenth and eleventh centuries. »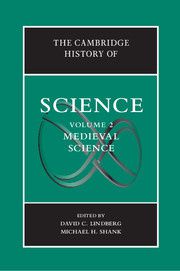 The Cambridge History of Science, Vol 2 : Medieval Science, edited by David C. Lindberg and Michael H. Shank, Cambridge University Press, hardback, 698 pages, 115 €. 
Présentation de l'éditeur : « This volume in the highly respected Cambridge History of Science series is devoted to the history of science in the Middle Ages from the North Atlantic to the Indus Valley. Medieval science was once universally dismissed as non-existent - and sometimes it still is. This volume reveals the diversity of goals, contexts and accomplishments in the study of nature during the Middle Ages. Organized by topic and culture, its essays by distinguished scholars offer the most comprehensive and up-to-date history of medieval science currently available. Intended to provide a balanced and inclusive treatment of the medieval world, contributors consider scientific learning and advancement in the cultures associated with the Arabic, Greek, Latin and Hebrew languages. »